Ready for Preorder in Spring 2024? Join our waitinglist to be the first to know!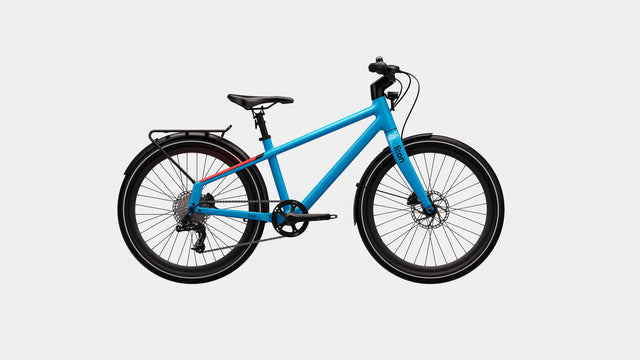 bullet
Automatic light system
Our oversized rear light with 150 COB LEDs of the latest generation immediately catches the eye. But that's not all. Our daytime running light with motion sensor for carefree automatic switching on and off also ensures maximum visibility. Of course, it has been approved by the StVO and is powered by a removable battery that lasts for at least 10 hours (i.e. approx. two school weeks).
bullet
Recyclable frame & fork made in Germany from PACF
Manufactured from high-tech composite made of polyamide reinforced with recycled carbon fibres, our frame will never rust and has no welds. It is produced in a highly automated production and testing process that produces zero waste and emits 67% less CO₂ compared to aluminium frames, while achieving the same stiffness.
bullet
Adjustable li:on stem
Our specially developed stem provides three different handlebar positions and is easy to convert at home.
bullet
Reflective li:on paint
Our varnish contains microscopic glass spheres that reflect a lot of light. In twilight and darkness, our bike is three times brighter than any other bike (+ 287% brightness), is therefore much easier to see, especially from vehicles with lidar systems.
INNOVATION
Innovation is in our DNA and we want to push the boundaries. For our frames and forks, we use a state-of-the-art injection moulding process from the automotive sector, which allows us to produce our frames and forks in Germany. This allows us to build slim, chic bikes with lightweight materials. For a clean look, we have integrated our self-developed light system and cable guides into the frame. Because you deserve a bike that is as stylish as your favorite sneaker!
SAFETY
Safety comes first and may also look good! We have taken precautions for your adventures and trimmed our bikes for road safety and visibility. We make you stand out in all directions on the way to school or friends with our light system with daytime running lights and with a particularly visible paint!
QUALITY
Our frame is manufactured in Germany and meets the highest quality standards. So it's only logical that we also pay attention to quality and durability when it comes to the components we use. As former cycling professionals, we know what's important: from wide tyres with the best grip to responsive brakes that stop in a flash—we've got your back in the big city jungle.
SUSTAINABILITY
The focus on sustainability is an important part of our mission. We want to keep our ecological footprint as small as possible. Our bike frames and forks are made with recyclable materials and an injection moulding process that reduces emissions by around -67 % for every bike produced. In addition, the final assembly and quality control of the bikes takes place in a modern production facility in Belgium. To keep transport distances as short as possible, we concentrate as many production steps as possible in Europe.

We know from our own experience how challenging the journey to school by bike can be. We stand by your side and demand together with you more space and consideration in road traffic. Our goal: More safety in road traffic through better infrastructure for young cyclists! We want to help you get a seat at the decision-making table so that cycling becomes safer and even more attractive.